Blade Saver ® Plastic Cutting Sticks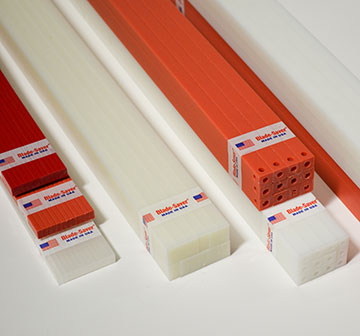 Jayhawk Plastics is the largest cutting sticks manufacturer in North America. Our Blade Saver® sticks are made exclusively with a special grade of material called Kimoplastic™ the most durable, non-abrasive, and cost-effective material designed for paper cutting. The natural lubricity and self-healing characteristics of Kimoplastic™ will keep a Bladesaver stick on your machine long after other sticks have been rolled or replaced.
Cutting sticks are sold by the dozen.
| Material | Color | Square | Flat | Description |
| --- | --- | --- | --- | --- |
| Standard White | | | | The standard by which all sticks are measured. It's resiliency, self-healing, and non-abrasive characteristics will not compromise blade life. Recommended for use with every grade of steel knife. |
| Standard Red | | | | The standard by which all sticks are measured. It's resiliency, self-healing, and non-abrasive characteristics will not compromise blade life. Recommended for use with every grade of steel knife. |
| Heavy Duty Red | | | | Long-lasting, durable material harder than Standard White and the Premium materials. Recommended for heavy-duty cutting operations. |
| Premium | | | | The most resilient, self-healing material on the world market. Elasticity allows stick to recover its shape and size quickly from knife cuts. Recommended for all cutting operations, particularly those running extended hours. Exceptional performance is achieved when used with high speed steel or carbide knives. |
| Red Premium | | | | Same characteristics as Premium. |
| Herculite™ | | | | An extremely durable material made exclusively for three-knife trimmers including Kolbus, Muller Martini, Wohlenberg, and Lawson. |